Do you see information that is incorrect on this page, or do you have information that should be added? If so, please:
Send Us A Message
or e-mail
Questions@Projectilepoints.net

References: (See Reference Page, Entry Number):

12, 23, 30, 178, W11
Decatur Projectile Point, Decatur Arrowhead
Name Details:
Named By
: James Cambron

Named For
: Decatur, Alabama

Date Identified:
1957

Type Site:
Decatur


AKA: Fracture Base Point (Ohio)



Cluster:
Kirk Corner Notch Cluster
Date:
Cultural Period:
Glacial Period:
Culture:
9,500 - 8,000 B.P.
Early Archaic
Early to Middle Holocene
Outline is Representative of Size and Shape: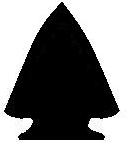 Description of Physical Characteristics and Flaking Pattern:
This is a small to medium triangular corner notched point. The cross section is most commonly flattened, but occasionally may be elliptical. The blade is primarily straight, but may range to incurvate in examples with flaring shoulder edges. The blade is rarely excurvate. The blade is commonly beveled on one or both edges and finely serrated. The shoulders range from straight to barbed. Rarely the shoulders have an upward angle (clipped wing). The stem is very short and expanding due to the removal of the fracture flake. The base is most commonly slightly concave, but may also be straight. The base will rarely be convex. The base is usually ground and thinned. The flaking pattern is random with a serrated blade.
Size Measurements: Total Length - 29 to 85 mm (42 mm average), Stem Length - 4 to 12 mm (7 mm average), Blade Width - 22 to 45 mm (28 mm average), Stem Width - 13 to 25 mm (19 mm average), Thickness - 5 to 7 mm
Distribution:
Distribution Comments:
This point is found in the Ohio River valley and into the mid Mississippi River valley. This point may also be found in the Tennessee River valley.
Similar Points:
Fairland, Hopewell, Hardin, Intrusive Mound, Kings, Kiski, Koster, Norton, Neuberger, St. Charles Dovetail, Thebes, Vosberg
Pictures:
Point Validity: Valid Type
Cambron is a distinguished avocational archaeologist that did extensive work in Alabama and the Tennessee River valley. This point was named in a personally published book. This point has been referred to in numerous professional publications and is considered a valid type.
.
Age Details:
This point is part of the Early Archaic Phase I.