Name Details:
Named By
: Floyd Painter

Named For
: Angelico River, Virginia

Date Identified:
1964

Type Site:
Angelico

Cluster:
Kirk Corner Notch Cluster
Date:
Cultural Period:
Glacial Period:
Culture:
9,500 - 8,000 B.P.
Early Archaic
Early to Middle Holocene
Outline is Representative of Size and Shape: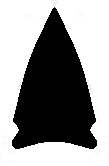 Description of Physical Characteristics and Flaking Pattern:
This is a thin medium triangular corner notch point with a thin elliptical to flattened cross section. The blade is primarily straight, but may vary to slightly excurvate to slightly incurvate on re-sharpened examples. Beveling and serrations are commonly seen on the blade and may be more prevalent on re-sharpened examples. The shoulder may range from slightly barbed to having a slight upward angle. The stem is expanding with a slightly concave base. This point is commonly well made and has a random flaking pattern.
Size Measurements: Total Length - 35 to 60 mm, Stem Length - 4 to 8 mm, Blade Width - 25 to 38 mm, Stem Width at Base - 17 to 30 mm (***based on small sample size***)
Distribution:
Distribution Comments:
This point is primarily found on the Piedmont of Virginia, North Carolina and into South Carolina, and into the coastal regions of those states.
Related / Associated Points:


Additional Comments:
These points are similar, if not the same, as the Decatur points found in the Ohio River Valley and into the Tennessee River Valley. Hranicky (2011) hypothesize that this type was developed in southern Virginia and migrated to the Ohio River Valley where it evolved into The Decatur type.
Other Websites with Detailed Information:




Pictures:
Pictures Provided By:
Robert Morlino
As Illustrated by Hranicky (2011)





References: (See Reference Page, Entry Number):

30
Do you see information that is incorrect on this page, or do you have information that should be added? If so, please:
Send Us A Message
or e-mail
Questions@Projectilepoints.net

Point Validity: Valid Type
Painter is a respected Archaeologist who spent decades documenting Paleo to post-contact cultures in Virginia Region. This type was named in a professional publication and has had many professional references since that time. This point is considered a valid type.
Age Details:

Angelico Projectile Point, Angelico Arrowhead