Other Websites with Detailed Information:
Name Details:
Named By: Wilford M. Husted (Wapiti Corner Notch) / Collectors (Mummy Cave)
Named For: Local town Wapiti, Wyoming / Type Site
Date Identified: 1969 / ?
Type Site: Mummy Cave (48-PA-210), Park County, Wyoming

Wapiti Corner Notch
(Discontinued Name)
AKA: Mummy Cave
(Collector Type)
Cluster:
Commonly Utilized Material:


Date:
Cultural Period:
1,400 - 1.200 B.P.
Developmental / Late Prehistoric
Vandal Minimum
Shoshone Culture
Glacial Period:
Culture:
Outline is Representative of Common Size and Shape:


Description of Physical Characteristics and Flaking Pattern:
This is a thin small triangular corner notch point with a thin elliptical cross section The blade is primarily excurvate, but may vary to straight or incurvate. The blade is commonly finely serrated. The shoulders are strongly barbed and may extend to the base of the point. The stem is expanding with a base that varies from straight to slightly convex. This point has a random flaking pattern.

Size Measurements: Total Length - 15 to 35 mm, Stem Length - 5 to 8 mm, Blade Width - 11 to 18 mm, Neck Width - 4 to 7 mm, Stem Width - 5 to 10 mm
Distribution:
Distribution Comments:
This point is primarily found in Colorado and Wyoming and other regions associated with the Shoshone Culture.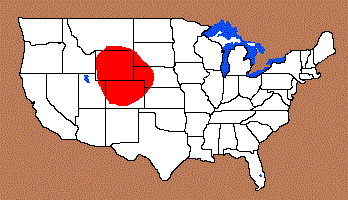 Related / Associated Points:
Additional Comments:

This point was named Wapiti Corner Notch by Wilford M. Husted in 1969 for examples found in cultural levels 36 at Mummy Cave. It has been argued that the name Wapiti Corner Notch be discontinued due to inadequate information regarding the temporal and spatial attributes. This name is no longer used in professional literature.

Collectors have adopted the name Mummy Cave for this point based on examples found in the Shoshone cultural levels at Mummy Cave. The name Mummy Cave (applied to these points) is not professionally accepted.





Pictures:



Other points in this Cluster:

Point Validity: Discontinued / Collector Type
See additional Comments
Two points were named for the Mummy Cave site. the first was a Early to Middle Archaic dart point. The second was a smaller point (now referred to as Mummy Cave) which were typed Rose Spring points in the excavation reports. There are many professional references to the Archaic Mummy Cave point, but only collector references to the newer point. This is considered a collector type.
.
Age Details:

Do you see information that is incorrect on this page, or do you have information that should be added? If so, please:
Send Us A Message
or e-mail
Questions@Projectilepoints.net

References: (See Reference Page, Entry Number):

23, 176

Mummy Cave Projectile Point, Mummy Cave Arrowhead