Name Details:
Named By
: Wilfred T. Neill

Named For
: Type Site

Date Identified:
1963

Type Site:
Bolen Bluff Site, Florida
Bolen

Cluster:
Commonly Utilized Material:
Chert and coral
Date:
Cultural Period:
Glacial Period:
Culture:
9,500 - 8,500 B.P.
Early Archaic
Early Holocene
Outline is Representative of Common Size and Shape: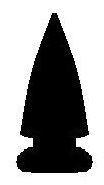 Description of Physical Characteristics and Flaking Pattern:
This is a triangular small to medium side notch point with a flattened to elliptical cross section. The blade may range from excurvate to straight. The most blades have fine serrations. The shoulder may range from horizontal to barbed. The stem may vary from expanding to expanded. The base may vary from straight to convex, occasionally the base may be slightly concave. Basal grinding may be seen on this point. This point has a random flaking pattern.
Size Measurements: Total Length - 33 to 100 mm (typically 45 to 55 mm), Stem Length - 9 to 15 mm (typically 10 mm), Width -20 to 40 mm (typically 28 to 34 mm), Stem Width - Typically slightly narrower than shoulders, Thickness - 5 to 12 mm (Different measurements to Bolen Beveled and Bolen Expanded Notch)
Distribution:
Distribution Comments:
This point is primarily found in northern Florida and as far north as Polk, Cobb, Bartow, and Cherokee county Georgia, southeastern Alabama, and east into the lower Savannah River Valley of South Carolina. This point may be found into central Florida with decreased frequency. This point has rarely been reported into Mississippi and Louisiana coastal regions.
Additional Comments:
Ripley Bullen identified five variants of the Bolen type point. The Bolen Type 1 is a side notched point with a straight base. This point is similar to the Big Sandy point, but is found in association with other Bolen style points. The Bolen Type 2 is similar to the Type 1, but has a convex base. The Bolen Type 3 is similar to a Kirk Corner Notch, but the stem is longer than is commonly seen on a Kirk type point. The Bolen Type 5 has a large square notch. This is the Expanded Notch type which is formed by flake removal from bit the top and the bottom of the notch. Other variants not identified by Bullen, but commonly used are the Bolen E Notch which is the Expanded Notch, but with a protrusion when the top and bottom flak met at the center of the notch. The Bolen Ace which is an unsharpened type 2 which is not beveled and has an convex base giving the point an "Ace of Shapes" appearance. The last variant is the Bolen Recurvate which has a base that is recurvate having a center concave and the base rounding up at the basal corners (Lloyd Schroder, 2013 W18). All subtypes may have a plain blade edge, or have a beveled edge.
John Whatley argues that small Bolen Corner Notch would be better classified as this type and Large Bolen Corner Notch would be better classified as Kirk Corner Notch (Schroder, 2013).
Pictures:
Subtype 1 (Side Notch)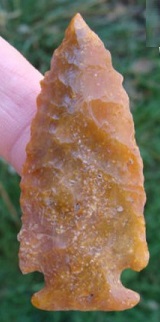 Subtype 2 (Rocker Base)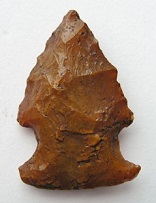 Subtype 3 (Long Stem Corner Notch)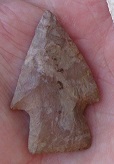 Subtype 4 (Corner Notch)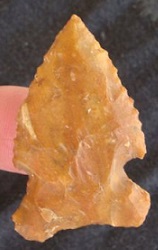 Subtype 5 (extended notch / E notch)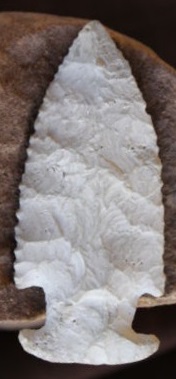 Bolen Ace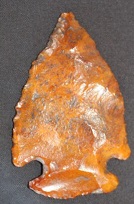 Bolen Recurve
Other points in this Cluster:



Point Validity: Valid Type
Neill was a herpetologist who taught herpetology, ecology and archaeology at Pasco-Hernando Community College in Florida. He named this point in a professional publication and this type has many professional references. This is considered a valid type.
.
Age Details:

Pictures Provided By:
Zach Richardson
Mike Blackfoot Crawford
Rocky
Amber Horne
Skip Hutchinson
Son Anderson
River Relics


Do you see information that is incorrect on this page, or do you have information that should be added? If so, please:
Send Us A Message
or e-mail
Questions@Projectilepoints.net

References: (See Reference Page, Entry Number):

23, 30, 59, 167, W10, W18
Bolen Projectile Point, Bolen Arrowhead